Maya Moore Net Worth: How Rich is the WNBA Star Actually?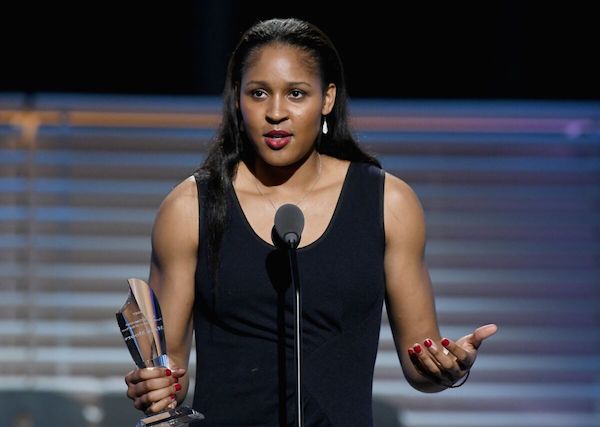 Maya Moore is a retired American professional WNBA player. She has won four WNBA championships and three WNBA All-Star Game MVPs. Maya was selected in the 2011 WNBA draft and has played for a Minnesota Lynx team. She officially announced her retirement from basketball on Good Morning America on January 16, 2023. As of 2023, Maya Moore net worth is estimated to be around $300 thousand.
Who is Maya Moore?
| | |
| --- | --- |
| Full Name | Maya Moore |
| Date of Birth | June 11, 1989 |
| Age | 33 years old |
| Born Place | Jefferson City, Missouri |
| Profession | Former WNBA player |
| Net Worth | $300 thousand |
| Husband | Jonathan Irons |
Maya Moore is a former WBA star from Missouri. She was called the greatest winner in the history of women's basketball by the sports magazine, Sports Illustrated in 2017. Moore played forward for the UConn women's basketball team and got back-to-back victories in national championships in 2009 and 2010. She has won an Olympic gold medal, a Fiba World Cup gold, an NCAA Championship, and a WNBA Championship.
Moore was born in June 1989 in Jefferson City, Missouri. Her parents are Mike Dabney and Kathryn Moore. She was three years old when she had her first exposure to basketball when her mom mounted a hoop on the back door of their apartment.
She studied at Moreau Heights Elementary School and later attended Creekland Middle School. Moore has also studied at Collins Hill High School and was a four-year starter at the school.
Maya Moore Net Worth & Career
View this post on Instagram
Maya Moore was named the Naismith Prep Player of the Year while playing as a junior at Collins Hill. As a senior, she was named the Most Valuable Player of the Tournament of Champions.
Moore was also active in track and field besides basketball. In fact, she finished as the runner-up in the high jump at the 2005 Georgia State 5A Championships. For her amazing performance in her senior year, she received several awards including the 2007 WBCA National Player of the Year and the 2007 Morgan Wootten Award.
Moore was also in excellent form in the University's freshman year. She led the Huskies to a 36-2 win record in the 2007-08 NCAA season. In fact, she was named BIG EAST Freshman of the Week 10 times. In her sophomore year, she continued her stellar play with an average of 21.0 points, 2.0 steals, 8.7 rebounds, and 2.3 blocks. Maya had an impressive season in her final year at UConn. She even became UConn's all-time scoring leader with 17 points against Sacred Heart.
Following University graduation, she was selected by the Minnesota Lynx in the 2011 WNBA draft. With that, she became the first female basketball star to sign with the Jordan Brand. When she joined the team, it already had talented players including Seimone Augustus, Rebekkah Brunson, and Lindsay Whalen. She became the team's second-leading scorer during the playoffs.
Moore also helped the Lynx to get the best start in WNBA history in 2012. In fact, the Lynx equaled 2011's 27-7 mark and finished as the top seed in the WNBA Playoffs for a straight year twice. In the 2014 season, she set a new WNBA record by scoring over 30 points in four consecutive games.
Moore was re-signed to the Lynx for a multi-year deal before the 2015 season. In the same season, she was named to the 2015 WNBA All-Star Game. Additionally, she received an MVP award after scoring a WNBA All-Star Game record of 30 points. Maya was voted into the 2017 WNBA All-Star Game in the 2017 season. In August 2017, the Lynx made history by defeating the Indiana Fever 111-52.
Maya has also been successful in her overseas career and national career. She signed with the Chinese club, Shanxi Flame in 2012. Then, she was chosen as one of the twenty players to represent the US at the 2010 World Championships. Moore received her second gold medal at the 2016 Summer Olympics.
Maya Moore's Husband & Personal Life
Maya Moore stepped away from the WNBA in 2019 to help overturn the wrongful conviction of her now-husband, Jonathan Irons. She announced her official retirement from her playing career on ABC's Good Morning America on Monday, January 16. She was in the prime of her career when she left her career behind after the 2018 WNBA season at age 29. At that time, she was helping her longtime family friend, Jonathan Irons to get a 50-year prison sentence overturned that occurred in 2020.
Maya revealed in Good Morning America in September 2020 that she and Jonathan had gotten married a couple of months ago. After two years, she announced the birth of her first child named Jonathan Irons Jr. on July 5, 2022. Jonathan was released from prison on July 1, 2020. Jonathan's story went viral after his 1998 conviction was overturned in March 2020. When Moore became a mother, she told the Good Morning America crew that she is ecstatic over the opportunity to become a mom and extremely excited to share the moment with Jonathan.
Maya Moore Net Worth
Maya Moore has earned an estimated net worth of $300 thousand as of 2023. She was reportedly receiving an annual WNBA salary of around $58,500. Moore was signed to the Lynx for a $117,000 two-year contract which expired in 2021.
Moore has also earned a hefty amount from endorsement and sponsorship deals with United Way, Pepsi Max Zero Calories, and United Airlines. Additionally, she had signed a contract with Nike's Jordan Brand in 2011 which was reportedly worth around $3 to $4 million.