Marcus Jordan Net Worth: How Rich is Michael Jordan's Son?
Marcus Jordan is an American entrepreneur and former college basketball star. He is known as the second oldest son of former professional basketball star, Michael Jordan. Marcus played college basketball for the UCF Knights men's basketball team. As of 2022, Marcus Jordan net worth is estimated to be around $1.5 million.
Who is Marcus Jordan?
| | |
| --- | --- |
| Full Name | Marcus James Jordan |
| Date of Birth | December 24, 1990 |
| Age | 32 years old |
| Born Place | Chicago, Illinois |
| Profession | Former college basketball player |
| Net Worth | $1.5 million |
| Girlfriend | Larsa Pippen |
Marcus Jordan is a former college basketball player from Chicago. He is mainly recognized for being the son of NBA legend, Michael Jordan. Marcus won the Conference USA All-Freshman honors in 2010 while playing for the University of Central Florida Knights. He also won a Second-Team Conference-USA selection in 2011 with UCF Knights men's basketball team.
Marcus was born in December 1990 in Chicago, Illinois. He was born to Michael Jordan and Juanita Vanoy. Marcus has two siblings, a brother, Jeffrey, and a younger sister, Jasmine. He also has younger twin half-sisters, Ysabel and Victoria. Marcus spent his childhood days growing up in Highland Park. He attended Loyola Academy and played high school basketball. Later, he was transferred to Whitney Young Magnet High School in his junior and senior seasons.
Marcus Jordan Net Worth & Career
View this post on Instagram
Marcus Jordan has been playing basketball since he was studying in high school. He played high school basketball along with his brother, Jeffrey at Loyola Academy. The two brothers led the high school team to the conference championships. That particular season when Jordan was playing was also listed as the best season in the school's history.
After being transferred to Whitney Young, he led the high school's team to win the Illinois 4A Championship in 2009. In the game against Waukegan, he scored a game-high 19 points. Furthermore, he was named the most valuable player of the state tournament.
Following his graduation, Jordan was rated as the 60th-best high school senior shooting guard in the United States by ESPNU. In the high school season, he scored an average of 10 points and made 3.2 assists and 4.5 rebounds in each game. Jordan continued playing basketball after attending the University of Central Florida. While playing in his freshman season for UCF, he made the University team lose its sponsorship deal with Adidas. He actually chose Nike Air Jordan instead of Adidas showing loyalty to his father.
Jordan played as a freshman from 2009-10 and scored 8.0 points per game. In November 2010, he played in the opening game of the 2010 season for UCF. While playing against the University of West Florida, he scored a high 28 points. Marcus left the UCF basketball team in August 2012. Basically, he followed the footsteps of his older brother, Jeffrey who left the team in January 2012. Despite leaving the UCF, he continued to attend classes and received his graduate degree in hospitality management in 2013.
Marcus Jordan's Girlfriend & Personal Life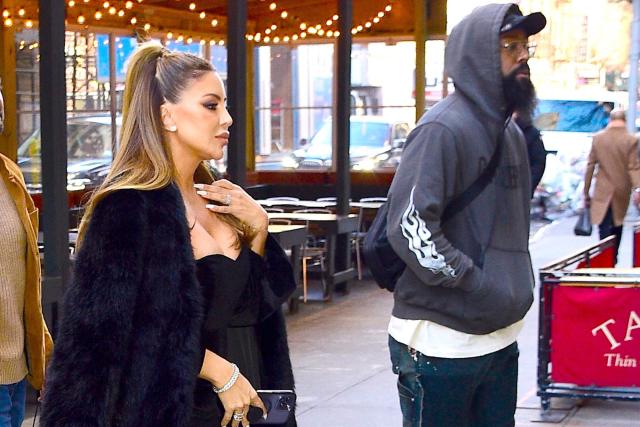 Marcus Jordan is currently dating the Real Housewives of Miami star, Larsa Pippen. The two were speculated as a couple after they were spotted together enjoying lunch in September 2022. Even though they fell into the spotlight of the paparazzi many times, they kept on insisting that they are just friends. Marcus appeared on the December 12 episode of "Watch What Happens Live" and stated in the show that he and Larsa are friends. Marcus and Larsa were recently seen enjoying New year's Eve dinner together in Miami Beach's Papi Steak restaurant.
On New Year's eve, while having lunch at the expensive steak house, Jordan intimately touched Larsa's back. Before New Year's eve dinner event, Jordan shared a sexy bikini-clad snap of his hot partner relaxing on a sun lounger at Wymara Resort & Villas on December 21. Larsa is 16 years older than Marcus and was previously married to NBA legend Scottie Pippen. She officially divorced Scottie in 2021. Larsa has four kids with her former husband.
Marcus Jordan Net Worth Timeline
| | |
| --- | --- |
| Year | Marcus Jordan Net Worth (estimated) |
| 2020 | Not Available |
| 2021 | $600,000 |
| 2022 | $1 million |
| 2023 | $1.5 million |
Marcus Jordan has earned an estimated net worth of $1.5 million as of 2022. He is currently running a high-end sneaker store, Trophy Room. The sneaker store was inspired by the trophy room of his legendary father, Michael Jordan's mansion.