Jesse Watters Net Worth: How Rich is the Fox News Host?
Jesse Watters is a political commentator from Pennsylvania. He currently works for the Fox News Channel where he has his own show. As of 2023, Jesse Watters net worth is estimated to be around $8 million.
Who is Jesse Watters?
| | |
| --- | --- |
| Full Name | Jesse Watters |
| Date of Birth/ Age | July 9, 1978/ 43 years old |
| Place of Birth | Philadelphia, Pennsylvania, United States |
| Occupation | Political Commentator |
| Relationship | Emma DiGiovine |
| Net Worth | $8 million |
Jesse Watters is a famous American conservative political commentator, who works for the Fox News Channel. Watters is known for hosting Fox News' new show "Jesse Watters Primetime".
Jesse Watters was born on July 9, 1978, in Philadelphia, Pennsylvania. His father, Stephen Hapgood Watters used to work as a teacher, and his mom, Anne Purvis is a child psychologist. He spent his childhood days in the Germantown and East Falls neighborhoods.
Regarding his education, Watters studied at the William Penn Charter School. Then he joined Trinity College where he graduated with a B. A. in history in 2001. 
Jesse Watters Net Worth & How He Made Money?
View this post on Instagram
Watters started off his career by working as a production assistant at Fox News Channel. Then in 2003, he began the new journey by joining the production staff of the talk show "The O'Reilly Factor". He started appearing on-air segments of The O'Reilly Show. In June 2014, he was featured first time on the Fox News Show called "Outnumbered", where he occasionally made an appearance as a guest co-host. In November 2015, he came up with his own monthly Fox News show "Watters' World".
After two years in January 2017, his show Waters' World became a weekly show. He started working as a co-host of the Fox News panel talk show called "The Five" in April 2017. The show is already ended and is replaced by the new show called "Jesse Watters Primetime". On January 10, 2022, Fox News made an announcement that Jesse would be filling as the permanent host of the show titled "Jesse Watters Primetime" on January 24. Despite being featured in the new show, he would still continue to co-host the Fox News show "The Five".
During his journalism career, he has faced several criticisms. He grabbed the attention in January 2017 after he faulted Hillary Clinton's campaign manager, John Podesta by claiming his password was theft by the Russian hackers. Watters claimed that Podesta gave his password to the hacker and mentioned his password was "Password". Although he claimed it is a true story, the website named PolitiFact rated his claim False. 
Watters was likewise criticized for his racist comment toward Asian Americans in October 2016 during a segment of Watters' World. In April 2017, he made an on-air comment on Ivanka Trump which was criticized as Lewd. He made the comment just after 2 days of joining The Five.
Jesse made some awful comments at Turning Point USA's 2002 AmericaFest Conference while confronting and questioning Dr. Anthony Fauci on his alleged funding of gain of function research at the Wuhan Institute of Virology. After his remarks, Dr. Anthony Fauci claimed that he should be fired on the spot. 
---
Also Read:
Brian Kilmeade Net Worth: How Rich is the Fox News Presenter in 2022?
Lawrence B Jones Net Worth: How Rich is Fox News Commentator?
Greg Gutfeld Net Worth: How Rich is Fox News TV Host in 2022?
---
Jesse Watters's Wife & Personal Life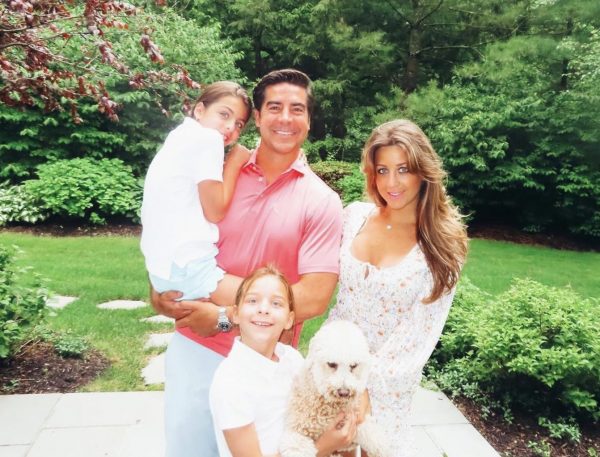 Jesse Watters has been married twice. At first, he exchanged wedding vows with a lady named Noelle in 2009. Together they share a twin daughter named Sophie and Ellie Watters. Noelle filed for divorce in March 2018 stating the reason as Jesse being involved in an extramarital affair with a young associate producer named Emma DiGiovine.
Following his divorce from Noelle in 2018, Jesse tied the knot with Emma DiGiovine in December 2019. Their wedding ceremony took place in a star-studded event in Naples, Florida. The pair was blessed with a son in 2021.
Jesse Watters Net Worth Timeline
| | |
| --- | --- |
| Year | Jesse Watters Net Worth (estimated) |
| 2020 | $4.5 million |
| 2021 | $6 million |
| 2022 | $8 million |
| 2023 | $10 million |
As of 2023, Jesse Watters' personal wealth is estimated to be around $8 million. He is reportedly earning an annual salary of $2 million from serving on Fox News Channel.